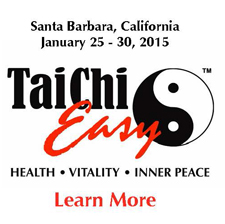 Learn Tai Chi Easy™ in just 5 Days
Experience a training and a retreat all in one and all inclusive!
w/ Trainer, Dr. Roger Jahnke
& Co-Leader Jessica Kolbe

January 25 - 30, 2015
@ La Casa de Maria
800 El Bosque Rd, Montecito, CA 93108
Early Registration Discounts thru 12/12
•American Holistic Nursing Association (AHNA) Nursing CE Available
•Lead others in the mind-body practices of Tai Chi with confidence and ease.
Tai Chi Easy™ is not "just" an exercise program that uses gentle movement to increase joint flexibility, circulation, range of motion and to maintain muscle strength. Harvard calls Tai Chi "meditation in motion," as the slow movements and mindset of Tai Chi can be used to manage stress levels by creating a a heightened sense of self awareness, mindfulness, empowerment and choice. The mind-body practices of Tai Chi Easy™ soothe and rewire the nervous system and increase cognitive and brain plasticity
Our Tai Chi Easy™ Practice Leader Training is a step-by-step program detailing how to share simple Qigong and Tai Chi to improve health, enhance longevity and promote inner peace, in our communities, schools, faith institutions, hospitals, community centers, and social service agencies. Tai Chi Easy™ is a safe activity for those with chronic health conditions and physical limitations.
Research evidence is mounting for the health benefits of Tai Chi Easy™ including: